How to Know When to Shave for the First Time
There's no one-size-fits-all answer to the question of when a guy should start shaving. Some will notice their first facial hair from as early as aged nine, while others won't get any until their late teens. Most guys in the UK (85%) first notice facial hair between the ages of 12 and 16, and 76% shaved for the first time between 14 and 17.
We discovered this during a survey we placed among 3,738 men across the world aged between 16 and 21 in 2018 as part of our continuous efforts to understand our consumers and how we can improve our shaving products for them.
If you're impatient for your facial hair to grow so you can shave for the first time, remember that everyone develops in their own time, so just wait until you're ready.
Where Does Facial Hair Grow First?
This is the order that facial hair tends to grow in:
Upper lip
Sideburns
Chin
Cheeks
Neck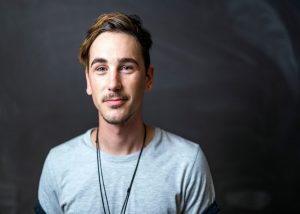 Around the same time, you're likely to start growing chest, armpit and pubic hair too, while the hair on your arms and legs will begin to look darker and wirier. To learn everything there is to know about manscaping and managing your body hair, check out our complete guide to body grooming.
When to Shave for the First Time
You'll know when you're ready for your first shave. The first facial hair that you grow will probably be more like fluff than thick beard hair, and lots of guys like to shave this off. However, you might want to see how much of a beard you can grow, and wait to shave until your facial hair is a little thicker.
When you first try to shave, we recommend our Gillette SkinGuard Sensitive Razor for younger, more sensitive skin, as it's specially designed to protect your skin from the blades, for a more comfortable shaving experience.
If you're wondering whether to wait for your first shave because of problem skin, our SkinGuard Sensitive Razor has been certified by the British Skin Foundation as suitable for sensitive skin, so you won't need to worry. Here's some more detailed advice on shaving with acne.
How to Shave for the First Time: 5 Simple Steps
Follow these five steps on your first few attempts at shaving, and you'll have soon mastered your shaving technique:
Have a shower just before you start shaving to hydrate, clean and soften your facial hair – this will make it much easier for your razor blade to cut through.
Get your skin ready for the razor by applying shaving gel or foam all over the area you're going to shave, making sure you work up a really good lather.
Shaving gel tends to be richer than foam, so use our SkinGuard Sensitive Men's Shaving Gel for your first shave and see how you get on. It doesn't contain any dyes or alcohols, so it's ideal for sensitive skin. Read more about the differences between shaving gel and foam here.