When it comes to your first shave, we know it can feel rather daunting. There's just so many crucial questions that need answering. But don't worry, we're here to answer them for you.
At Gillette, we pride ourselves on turning first time shavers into super-suave, grooming experts. We're dedicated to giving you all of our know-how and shaving tools you need for a successful first shave.
When is the Right Time for Your First Shave
Most guys in the UK (around 85%) notice facial hair for the first time between the ages of 12 and 16, and 76% shave for the first time between 14 and 17. However, there are no age restrictions when it comes to shaving – so simply start when you feel ready.
We all pick up the razor for the first time at different points in our lives. But when it happens, there's no denying it's hard to know where to start.
Follow our quick and easy guide, and master shaving with expert advice from Gillette.
Shaving Cream: Your New Best Friend
Whether it's your first shave or not, shaving supplies are essential. That said, for a comfortable first shave, lather up in shaving cream before you start. This will help your razor glide easily glide across your face.
However, the benefits don't stop there – here are more benefits to adding shaving cream to your shaving routine:
Keeps the Skin Protected – Shaving creams can create a thin, protective layer between the razor blade and your skin. This results in less friction, in turn reducing any chance of redness, irritation or nicks and cuts after shaving.
Extra Efficiency – The act of removing shaving cream helps you keep track of where you have run the blade. This makes for a much smoother, cleaner shave and ensures you don't miss any spots.
Soothing – Shaving creams can leave your face feeling soothed and refreshed after use.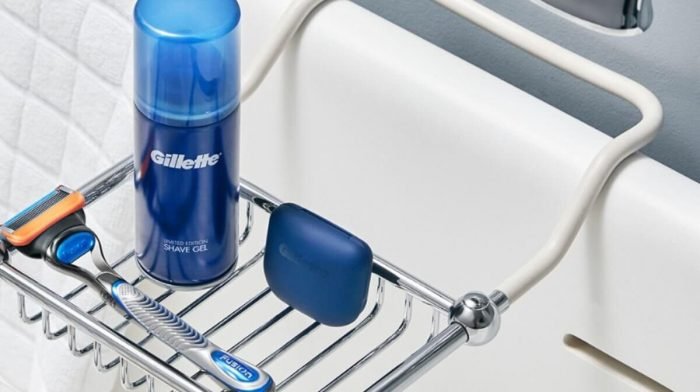 At Gillette, we have several Shaving Gels and Foams to choose from. We know the choice can seem overwhelming when you're new to shaving, so here's a quick guide to a few that will suit first-time shavers perfectly:
Find Your Perfect Shaving Cream
SkinGuard Men's Sensitive Shaving Gel:
Helps prevent irritation
Clinically proven for sensitive skin
0% dyes and 0% alcohol
Includes a touch of aloe vera to cool and soothe skin
If you've got sensitive skin, this gel is the perfect choice to help your razor glide smoothly over your skin.
Men's ProGlide Sensitive 2 in 1 Active Sport Shaving Gel:
Three effective lubricants enhance razor glide for a smooth, comfortable shave
Helps protect your skin against nicks, redness and tightness
Includes a see-through gel gauge to determine exactly how much gel you have left
Comes with Active Sport Scent
Our 2-in-1 formula features Gillette's best shaving gel technology to leave sensitive skin feeling smooth, soft, cool and refreshed.