The horseshoe moustache is certainly a statement facial hair style; so much so that you'll often see it referred to as the Hulk Hogan moustache.
This cowboy-inspired moustache style features two distinctive long bars of facial hair pointing downwards, often extending all the way to the chin.
Although the horseshoe moustache enjoyed peak popularity around the 1970s, bold facial hair has been making a comeback in recent years; with the right grooming tools and a little bit of shaving know-how, you can bring this look into the 21st century.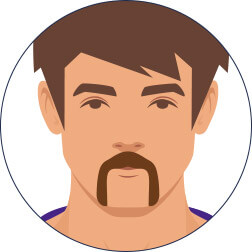 How to Grow a Horseshoe Moustache
To grow a perfect horseshoe moustache, you may have to put up with a full beard or with looking slightly unkempt for a few weeks, until you've got enough facial hair for shaping on your upper lip and on the area joining your cheeks and your chin.
During this stage of growing a horseshoe moustache, there's no need for your 'tache to creep over your top lip, getting in the way of your mouth. Keep your moustache trimmed while you're growing the rest of your facial hair, using the Gillette All Purpose Styler and Beard Trimmer.