No matter how well-refined your skincare regime might be, having dry skin under facial hair can become an irritant. Eliminating skin trouble can help you to look and feel so much more like the best version of yourself, which is why you need to know how to combat it.
What is Dry Skin?
Dry skin occurs when skin becomes dehydrated through lack of moisture, is itchy and uncomfortable. It feels irritable and is noticeable, with visible dry flaky skin under facial hair, cracking and dry patches.
When these lipids are deficient, dry skin and rashes occur, making the skin feel rough, tight and itchy. Severe dry skin can result in skin cracks, fissures, and intense itching. The arms, hands and lower legs can be particularly vulnerable to this. Dry skin can affect us all, but it gets worse with age as the skin dries-out.
Why Do Men Get Dry Skin?
Do you suffer from dry irritated skin under your beard? Dry skin has many causes, including being exposed to cold and harsh weather, or low humidity. Soaking in hot water causes the skin to lose moisture, while exposure to some soaps, which extract the protective oils and proteins in the epidermis, reduces the skin's ability to hold moisture. If you notice dry skin under facial hair, then you might be using a facial wash that's too harsh or not moisturising enough.
Dry skin is common in cold weather so you may feel a change in your skin during the months of late autumn, winter and even early spring when cold air draws out the skin's moisture.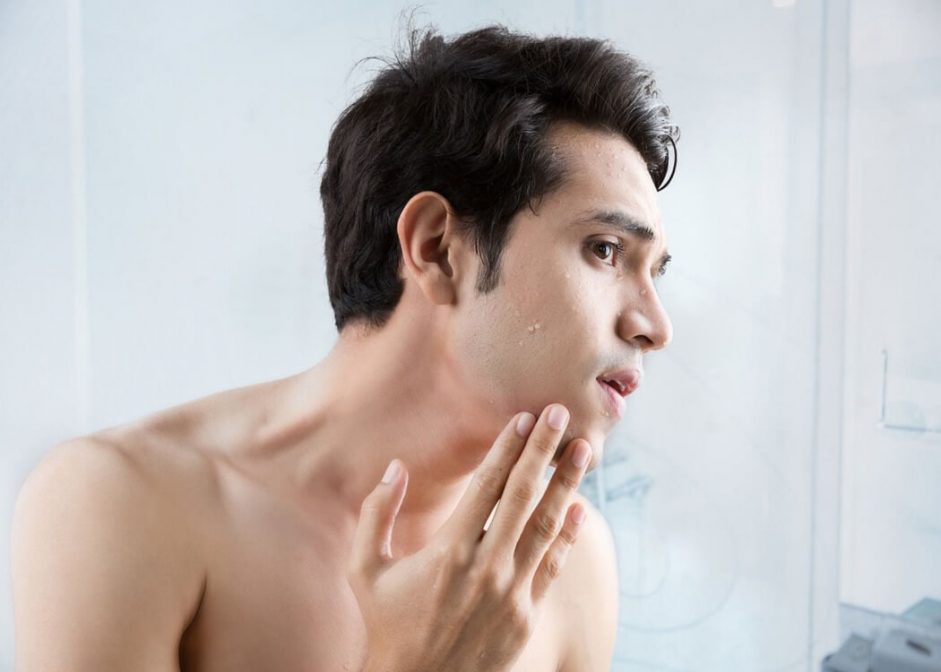 When you're inside, perhaps in the office or at home, dry heat from central heating in winter, and cool, dry air from air conditioning in summer, can also play havoc with your skin regime causing dry irritated skin under beard.
What Can Make Dry Skin Worse?
Understanding our body extends to knowing what makes dry skin flare up. There are many things that make it worse, with the simplest being dehydration caused by not drinking enough water throughout the day, or during strenuous exercise.
Do you notice dry skin under beard after a night out drinking? Alcoholic drinks have a dehydrating effect by stopping the body's production of the antidiuretic hormone, which it uses to absorb water. Fight back by alternating alcoholic drinks with water.
Hygiene is important as well. But limit yourself to ten minutes in the shower with warm rather than piping-hot water. Clean yourself only with a gentle, fragrance-free cleanser, moisturising right after drying.
Wondering why you get dry flaky skin under facial hair after sun exposure? The sun dries-out the skin, so make sure you're protected with an SPF-covering to minimise dry skin conditions. It's also best to avoid tanning beds, as these can heighten your chances of getting dry skin – and much worse.
Can You Treat It?
If you suffer from persistent dry skin, speaking to a dermatologist is recommended. They will profile your skin type, and determine whether it's naturally dry, oily or combination. After speaking with you, a professional will outline habits that could be making your skin worse and recommend skincare products to help.
A dermatologist might also recommend fragrance-free products. That's because they contain irritable masking agents which react extremely quickly to hypersensitive skin types. Dermatologists can point you in the direction of soothing lotions and beard creams for dry skin to prevent further irritation too.
As well as recommending products, they will ask if you are caring for your skin by maintaining a daily skincare routine that takes your lifestyle, medical history, and skin type into account.
It is important to be proactive, which includes washing and moisturising after exercise, using moisturising shaving lotion and checking your skin's reaction to different situations or products.