Anyone who hears the word "beard" at Christmas time probably has a very specific image in mind. That's right, the white beard of Father Christmas. But are there beards that are even more Christmassy? What's the best thing about Santa's facial hair?
A new trend on social media channels has made it its business to discover just that. Christmas Beards! We can only philosophise about how this trend came about.
Maybe the Christmas beard pioneer simply fell asleep on some candy canes and stuck to his beard afterwards. Or, perhaps the inventor simply had so much fun decorating the Christmas tree that he continued with his beard. Perhaps this phenomenon is simply one of the so-called Christmas miracles.
The great thing about the Christmas beard is that you don't even necessarily need a full beard. There are no limits to creativity when it comes to festive hair, so you can also discover the occasional moustache, cheek or chin beard on Instagram and the like.
Beards Again – The Latest Craze in Christmas Traditions
Decorating the Christmas tree is a cherished tradition in many families.
So why should it stop here? After all, you are decorating your entire house or flat. So it only makes sense if you decorate yourself a bit for Christmas too. This way, you can also put a stop to the old saying, "there used to be more tinsel". Besides, Christmas is the festival of love, and if your beard is the Christmas tree, there's a particularly great present underneath it this year… you!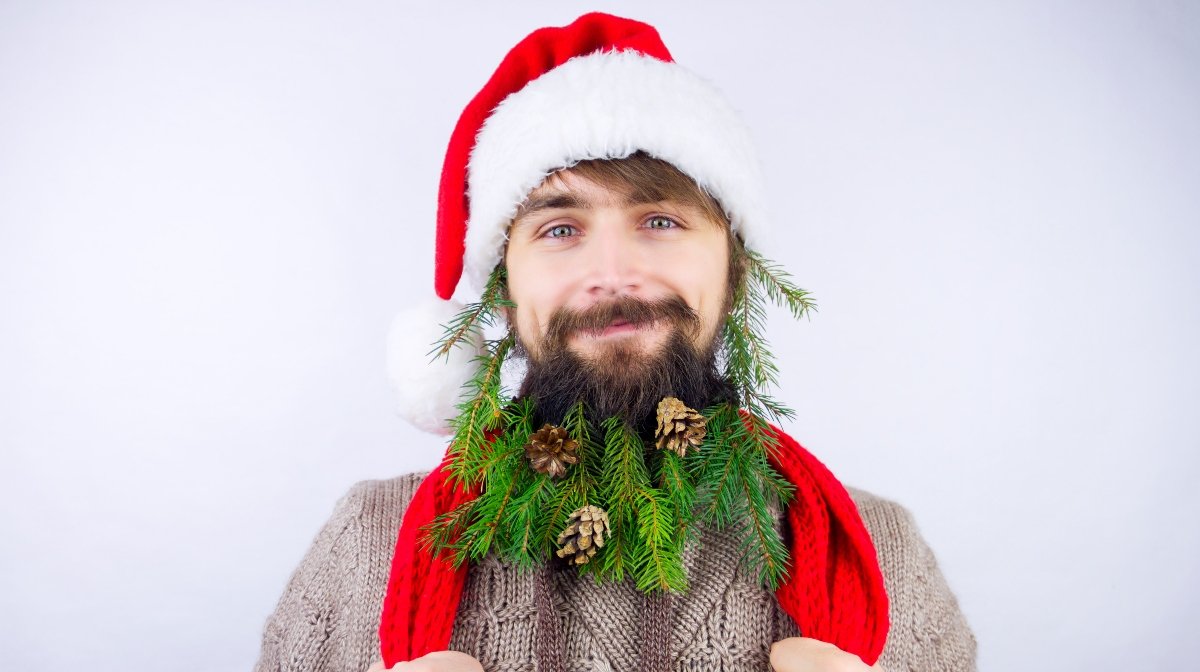 In the Christmas Barbershop – How a Beard Becomes Fun for the Whole Family
"Last Christmas I shaved off my Beard. This year, to save me from tears, It'll turn into something special".
Who hasn't experienced it? Grandma thinks you're much snazzier without a beard. So, for her sake, you make an exception and shave your beard. But who is the little boy who emerges? You immediately regret it and start "the very next day" to let the beard sprout again. This year, why not start your beard with the joy of the little ones in your family? Let your family decorate your beard for Christmas. A new tradition is born. Our recommendation: Don't decorate your beard until after dinner. Your Christmas beard will thank you.
Born in Beardlehem – How Suitable is the Christmas Beard for Everyday Life?
How suitable your Christmas beard is for everyday use depends on how extravagant and elaborate it is. However, since the principle of "the more dazzling, the better" applies to festive beards, we would recommend that you only wear this style on special occasions and design it with love. After all, a Christmas tree is not decorated all year round. The advantage of the Christmas beard is that you don't have to cut it off to decorate it. Whether you would attend church with a Christmas beard is a question you must answer for yourself. What we can tell you, however, is that you will definitely stand out at your company's Christmas party. Since the elaborate beard deco will make it difficult for you to drink, we can at least promise you that you won't be the one being talked about for the rest of the year.
In summary, we can say that the Christmas beard is particularly suitable for a contemplative festive season in which people are also allowed to laugh heartily. With a beautiful Christmas beard, Christmas spirit and joy are guaranteed.
And while you're at it, a party like this is also a great time to snap some snazzy pics for your Instagram / Facebook or possibly even Tinder profile to add a little festive cheer to your profile.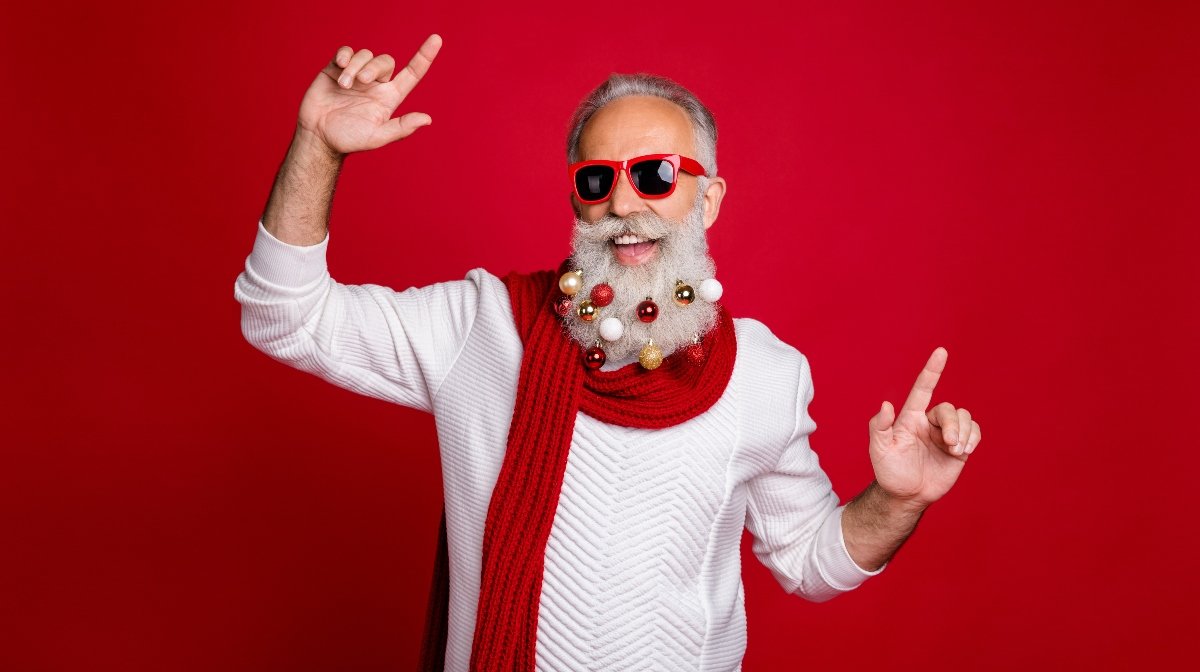 Do as the Advertising Industry Does and Make Santa Look Old: Your Way to a Christmas Beard
So, you're in the Christmas spirit and want to show it to the outside world?
If you have already chosen one of the Christmas holidays, plan to spend at least one hour on your beard. Unless you're Father Christmas, who can give presents to 822.6 houses per second. In any case, we'll tell you how to make your Christmas beard perfect.
Step 1: Style Night – Find Inspiration and Let Your Creativity Run Wild
Before you start, you can get inspired on all social media platforms. You don't necessarily have to look for beards. Other Christmas decorations can also serve as models. Basically, the same rules apply to Christmas beards as to Christmas trees. Real candles may look better, but you should still avoid them as they are a source of ignition. You're sure to look hot enough without a burning beard. If you do use tinsel, make sure it doesn't contain lead. This has been banned for a long time, but who knows what you might find in your decoration box. You'll only be endangering your health unnecessarily. Fairy lights with button batteries and glitter dust are absolute highlights!
Step 2: Sweeter, the Length Must Be Right – Create a Foundation
First of all, you should have a foundation. That is, one part of your beard should already be a little longer. Whether it's on your upper lip, cheeks, chin or everywhere else, it doesn't matter. With a three-day beard, however, it will be difficult and possibly even painful, but you can still decorate it with glitter.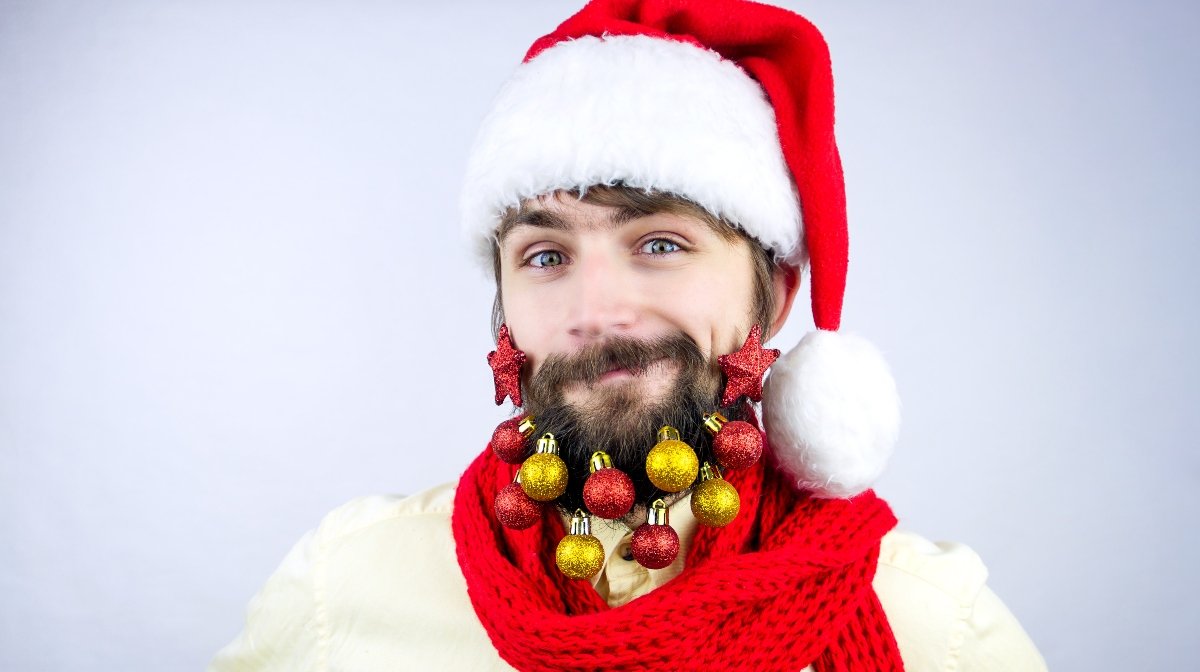 If you meet this requirement, it's time for a trim. Because even though Christmas is originally a pagan custom to celebrate the solstice, you shouldn't necessarily look like a barbarian (not to be confused with a barber, whom you are very welcome to resemble).
To get a proper Christmas trim, you can, for example, use the King C. Gillette Beard Trimmer.