If you were wondering how to prepare your skin for shaving, you're in the right place. Although pre-shave prep can often be a laborious and tedious task, with the right tools on-hand, you'll be prepared to help eliminate ingrowns and shaving rash to enjoy a clean shave.
Why is Pre-Shave Prep Important?
An effective pre-shave routine is vital to ensure you look after your skin and hair to avoid redness, excessive pulling of the skin, and cuts. Pre-shave products work to soften the hairs and allow the blade to easily glide over the skin, enabling a close shave with no irritation.
Should You Shave Before or After a Shower?
We are often asked 'should you shave before or after a shower?', and the answer is, it depends.
If you are an electric razor user, we recommend shaving prior to your shower, as this razor type likes to work on dry hair. Shaving before a shower means any mess caused by hair cuttings will be washed away in the shower afterwards.
However, shaving after showering is much loved for a reason. The steamy environment caused by a hot shower can work wonders to soften the hair for a closer, more comfortable shave with fewer strokes. We recommend this shaving method for anyone with sensitive skin or those who suffer from razor bumps and ingrown hairs.
Whether you opt for a wet or dry shave, you should enjoy successful results as long as you use the right products and tools for the job.
Should You Shave or Exfoliate First?
So, is it better to exfoliate before shaving? This method is one of the most important steps of your pre-shave prep. Working to buff away dead skin cells and unclog your pores, exfoliation allows for a closer shave without irritation or redness.
After shaving, the skin is sensitive and needs time to soothe. Exfoliation immediately after will disturb the area and result in itching or burning. For best results, leave at least two to three days after your shave before exfoliating the area.
Want a fuss-free shave? Our Gillette Labs Razor with Exfoliating Bar has built-in exfoliation technology that removes away dirt or debris as you go, making shaving effortless and more something that can be enjoyed.
How to Use a Pre-Shave Scrub
Using an exfoliating scrub before shaving is the best way to achieve a close shave and here's how to apply it:
Step 1: Dampen the area with warm water to soften the skin and clear your pores.
Step 2: Apply a good dose of scrub, about the size of a 50-pence piece into your hand.
Step 3: Using your fingers, massage the scrub in circular motions into the area you want to prep.
Step 4: Massage for no longer than one minute to ensure you don't cause abrasions on the skin.
Step 5: Rinse the scrub thoroughly, apply the Gillette Labs Rapid Foaming Shaving Gel, and reach for your razor to enjoy a comfortable shave.
Do You Need Shaving Cream to Shave?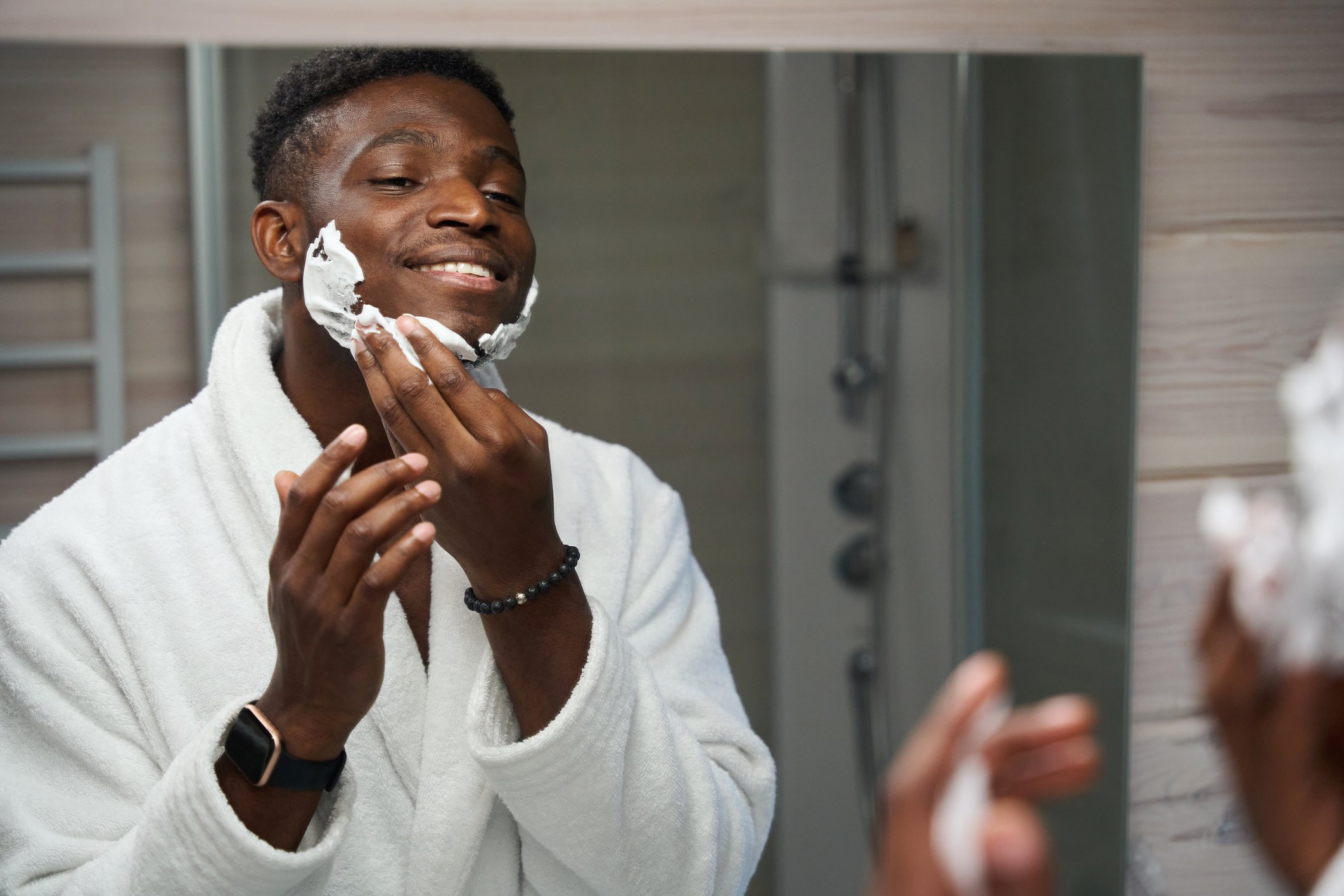 Yes, shaving cream is a must-have in your shaving kit. It has four key functions that won't make you want to shave any other way.
1. Hydration
Shaving cream moisturises the hairs, leaving them softer and easier to shave.
2. Lubrication
Shaving cream provides a thin layer of protection between the blade and the skin, ensuring less friction and minimising the risk of redness or razor burn and cuts.
3. Track Your Shave
Its thick lather allows you to see where you've run your blade, ensuring you don't miss any hair.
4. Calm Skin
Using shaving cream will reduce the need to pull and tug at the skin or hairs, leaving you feeling soothed and refreshed afterwards. Made without alcohol or dyes, the Gillette Labs Quick Rinse Shaving Foam is lightweight but protective.
How to Use Shaving Gel
Shaving gel has several beneficial qualities for the skin. Not only does it create a richer lather than a cream, but a gel formula also contains enhanced lubricants which means you can enjoy more razor glide and greater protection for the skin overall.
But how do you use it? Here's our simple guide to using shaving gel:
Step 1: Apply a generous amount of shaving gel into your hand and rub together in circular motions.
Step 2: Continue to lather the foam for about 10-15 seconds.
Good to Know: You don't even need water to use a gel product, it will lather perfectly by itself.
Step 3: Apply the gel to the area you are shaving.
Step 4: Shave the area with your favourite Gillette razor.
Why Should You Use Pre-Shave Oil?
A pre-shave oil is simply applied to the skin as a different form of protection in your shaving routine. Acting as a slip between the skin and the razor, an oil works well to soften the hairs and allow for a smooth shave. Those with a beard favour this method for its translucent quality, allowing you to accurately neaten up your beard.
There are many other benefits that come along with an oil formula. Here are our top three:
1. Good for Beginners
Pre-shave oil is known for being a great option for shaving novices due to its amazing ability allow the blade to easily pass across the skin.
2. Softens the Hairs
Oils are a useful product to use to soften the hair. An oil will thoroughly coat each strand to soften and protect your skin while you enjoy a comfortable shave.
An oil can be used prior to showering, but we'd always advise to warm skin in the shower or with a hot towel for the best results.
3. Versatile
Pre-shave oils also offer versatility. They can be used both on their own or with a cream or gel to provide double protection for the shave you want.
How to Use Pre-Shave Oil
Pre-shave oil can be an excellent product to use in your shaving routine, whether you are new to shaving or have a well-established beard, it's a smart choice.
Step 1: Apply a few drops of shaving oil into your hand and rub together in circular motions.
Step 2: Gently rub the oil into the area you want to shave, making sure all hairs are coated.
Step 3 (optional): Add your shaving cream or gel over the top for extra lubrication.
Step 4: Shave with your favourite razor.
Can You Use Pre-Shave Oil as a Beard Oil?
Pre-shave oil is not intended to be used as a beard oil. While pre-shave oil is used as a lubricant, beard oil is formulated as a conditioner, making this much richer and thicker in texture. If you were to use beard oil for shaving, it's likely the product will clog the blade and leave you with an ineffective shave.
Discover more about beard oil and how to use it here.
When it comes to mastering the art of how to prepare your skin for shaving, it can be trial and error, but with our tips and tricks hopefully, you'll be on your way to your best shave yet.
From manscaping to skin types, our blog has advice on all things grooming, discover more.