Thinking of jazzing up your look with a new hair or beard colour? Whether you're bored of your natural shade, are starting to get grey hairs or simply want to spice up your appearance with some colourful streaks – we're here to guide you towards the best hair and beard dyeing techniques.
But first things first: why bother with hair and beard dye? Well, dyeing our hair may seem like a relatively modern custom, but the history books say otherwise! Camouflaging grey and white hairs seem to always have been a major preoccupation because the Ancient Egyptians, Greeks and Romans all conjured up various herbal concoctions to restore colour to their luscious manes.
From fermented leeches (yikes!) and toxic herbs to the still-used henna natural dyes, when it comes down to colouring our hair and beards, we've been through a lot of trial and error phases. Luckily for you, we've nailed the hair and beard dyeing game, and are ready to share our top tips on the best beard dyes, beard dye colours and how to match or mismatch your beard colour to your hair!
Ready to take a colourful plunge? Then read on for our ultimate beard dye for men guide.
Hair & Beard Dyes
Dyeing your beard and hair is a fun way to spruce up your look and when done correctly, shouldn't harm your facial or scalp hair. Some of you might be thinking, can you use hair dye on beards? You can use hair dye on beards, but always follow the advice written on the packet. If unsure, ask your barber or hairdresser.
Depending on the look you want to achieve and whether you're covering white or grey hairs, there's different hair and beard dyes you can pick. If you're worried about how long beard dye lasts, then temporary beard dyes might be a good option as they usually wash off within 1-3 washes.
If you're not really experimenting with new colours or want to cover white or grey hairs, then pick permanent beard dyes, as they last as long as your regrowth!
Unsure? Follow our guide to hair and beard dyes to find out which product would suit your needs best:
Temporary Hair/Beard Dyes
Thinking of dyeing your beard bright blue? Perhaps you want to add green streaks through your hair? If you're looking for colourful beard/hair dyes or have never used hair dye before, then temporary beard dyes are the best option for you.
Ranging in a whole spectrum of beard dye colours, from the classic black beard dye to the funkier purple, temporary hair dyes let you experiment with different looks without having to commit! Don't like it? Simply shampoo it off or use a beard wash and watch the colour fade away!
Permanent Hair/Beard Dye
If you're looking to cover grey or white hairs, you'll need a product that sticks to your hairs, giving you full white or grey hair coverage. Specifically designed grey beard dye for men can be bought from many pharmacies or stores, so if you're not so sure of your silver fox look, opt for these products to get the best results.
Permanent hair or beard dyes are also great for men who already know what colour suits them and aren't afraid to commit to the colour change. If you know that blonde beard dye suits your complexion, go permanent!
Natural Hair/Beard Dye
Are you keen to try new looks but scared you'll damage your precious scalp or beard hair? Or perhaps are you allergic to ingredients in common hair or beard dyes? If you're looking for beard dye for sensitive skin, then our advice is to stick to natural dyes.
Henna hair and beard dyes remain a great choice – henna has been around for millennia and isn't just used to colour hair, but also to nourish and condition it. If you're using a natural beard dye like henna on blonde or white/grey hair or beards, keep in mind that the first application may make your hairs look more reddish. To achieve darker brown tones, you'll have to apply the henna dye again.
Hair & Beard Dye Colours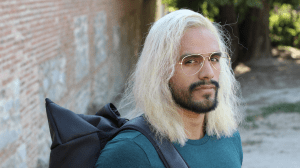 Hair and beard dyes come in a whole range of colours, from the traditional black beard dye and bleach blonde beard dye, to the bright reds, gingers, blues or purples, there's a whole rainbow to choose from, and we love beards and hairs of all colours.
But you might be wondering 'I've just dyed my hair, should I dye my beard too?' There's no right or wrong answer to this question, ultimately, bleach blonde hair and a dark beard can look great and really draw attention to your bleached mane! But equally, you may choose to reach for that blonde beard dye and go for the full-bleached look.
Mismatching your hair to your beard colour is by no means a style faux pas, in fact, we think it's quite dapper! So, don't worry if your ginger hair doesn't match your brown beard, if it really bothers you, then pick a ginger beard dye, if not – vive la différence!
How to Dye Your Beard or Hair
Now that you know what different hair and beard dyes are out there and know what colour you're going for, it's time for you to finally make the move and transform your look. You might be more accustomed to using at-home hair dyes, but we can assure you that dyeing your beard is just as easy.
Before you dye your hair or beard, always do a patch test 24hrs prior to see if you're allergic to any of the ingredients. If you don't get any irritation or rash from the patch test, proceed to dyeing your hair or beard.
Step 1 – To begin with, always wear rubber gloves to protect your hands from getting stained or irritated by the hair or beard dye.
Step 2 – Always read the instructions in the hair dye packet. Then proceed by mixing the colour with the developer.
Step 3 – If you're using beard dye, it should come with a beard brush applicator. If you're using hair dye, then apply using the applicator or help yourself with an old toothbrush or hair comb. Evenly spread the hair or beard dye to cover all desired areas.
Step 4 – Wait for the hair or beard dye to work its magic! But always check to see if your skin is okay, if you feel like the dye is itching your skin or causing a rash, you should wash it off. If unsure, it's always best to wash it off and then reapply if necessary.
Step 5 – You're now probably wondering how to get beard dye off skin. It's only natural for some of the product to stain your skin. But don't worry, you can wash it off. Simply use a product like King C Gillette's Beard and Face Wash and gently rub your face using circular motions. The excess beard dye should come off in no time!