Valentine's Day is about celebrating the love you have for the most important person in your life, so it shouldn't matter where you are on the day – the focus should be on who you're spending the day with, not having to be in the fanciest restaurant or the most expensive hotel.
And if you're apart from your other half on 14th February, technology means you can still spend the day together, wherever you are. FaceTime or Zoom each other while you're cooking the same meal at the same time, and then sit down to enjoy it virtually together, and take advantage of online ordering to surprise your loved one with romantic deliveries throughout the day.
Whether you're together or apart, here are our ideas for celebrating a romantic Valentine's Day from home:
1. Plan Surprise Deliveries
Buying Valentine's gifts is easier than ever thanks to online shopping, and a great, thoughtful way to make Valentine's Day special without leaving the house is to get the romance to come to you.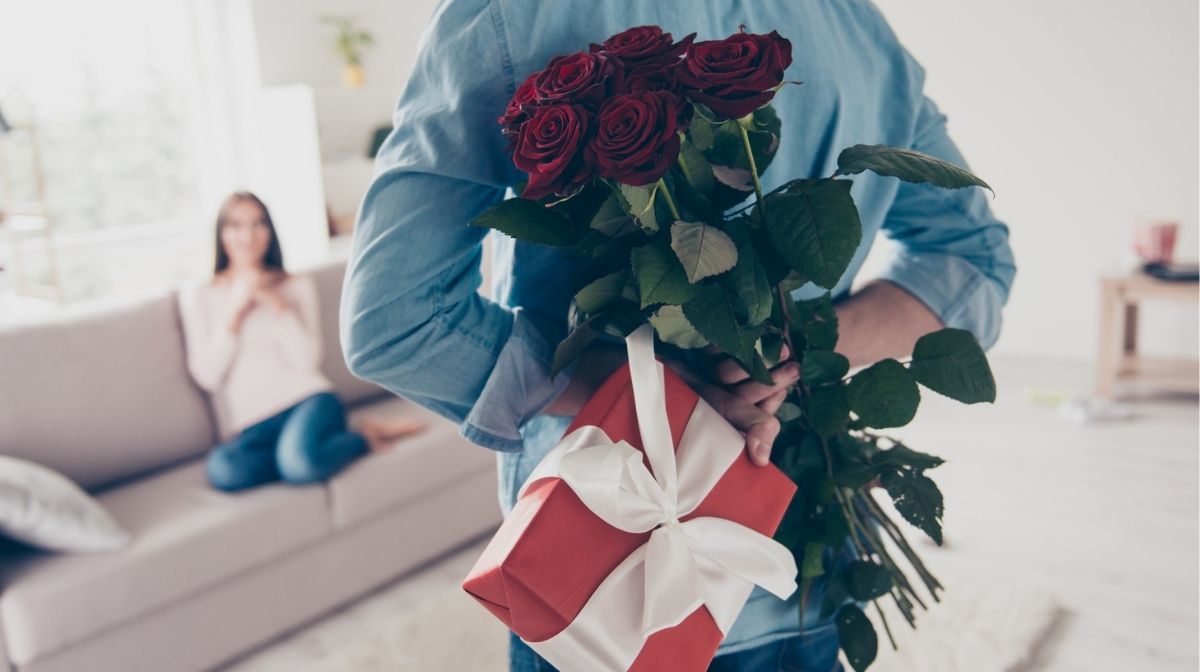 Arrange for breakfast to be delivered, so you can enjoy it together in bed; have flowers delivered to surprise your other half; arrange for gift-wrapped presents to be delivered throughout the day to keep the surprises coming; have ingredients or a meal delivered in the evening so you can enjoy a romantic meal together to finish the day – you could even have balloons and champagne delivered to make the day extra special.
2. Create a Cosy Den
Sometimes, a low-key Valentine's Day can be the most special and memorable way to spend the day.
Cuddling up together with your favourite snacks and favourite film or TV show surrounded by as many blankets, duvets and cushions as you can find, can be a wonderfully relaxing way to mark Valentine's Day, as you let yourselves relax and simply enjoy each other's company.
Make your den feel even more romantic and cosy by stringing up some indoor fairy lights, and make sure you've got a bottle of fizz and a couple of glasses within arm's reach.
3. Bring the Restaurant Experience to You
Food is the way to many people's hearts, and cooking a meal together can be a lovely way to spend Valentine's Day at home. A few of our favourite ideas for two people to cook together are:
Homemade pizza
Homemade pasta or gnocchi with a homemade tomato sauce
Homemade curry with homemade naan bread
A homemade decorated sandwich cake
Homemade sticky toffee pudding with homemade ice cream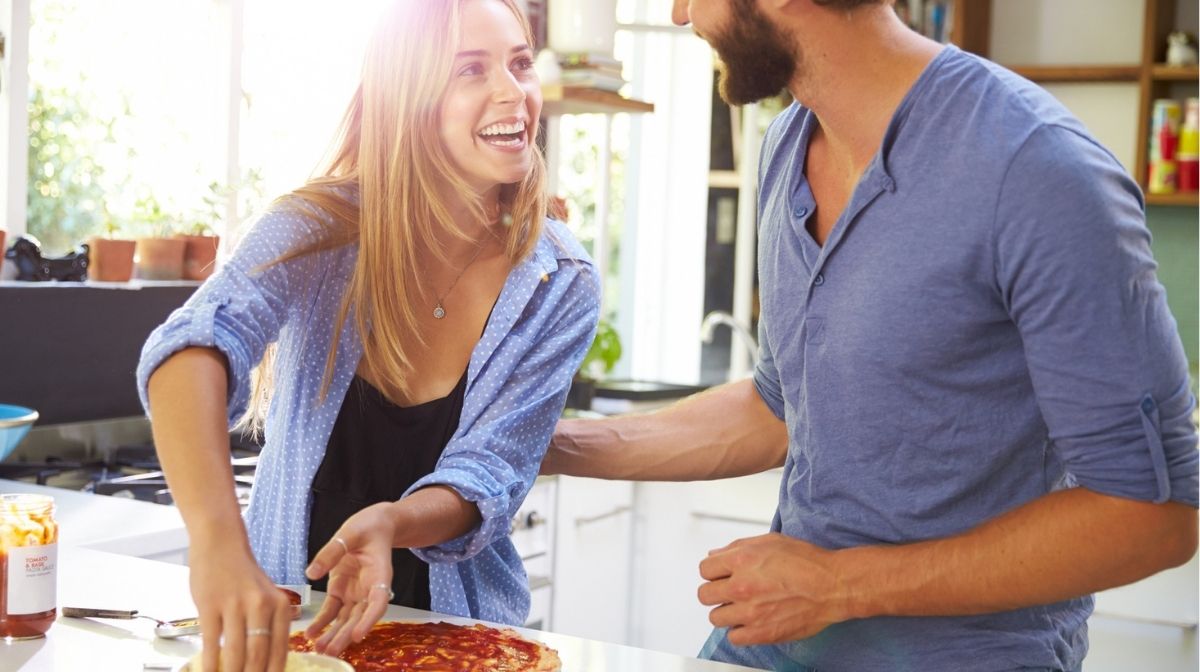 Many restaurants now offer meal kits that allow you to prepare and enjoy your favourite restaurant food at home, providing you with a fun experience to try out together, and of course some delicious food at the end of it. Channel your favourite chef and impress each other with your new cooking skills.
You can even get some restaurant meals delivered to you with no additional prep needed apart from you needing to warm the dishes up. Whether you're getting a slap-up curry, steak with all the trimmings or an afternoon tea delivered, put your glad rags on, pour some drinks and enjoy bringing your favourite restaurant to you.
4. Organise a Treasure Hunt
Planning a treasure hunt around your home for your other half can be a lovely romantic gesture, as it means you can create personalised clues and you can have a meaningful surprise waiting for them to discover at the end.
There's plenty of inspiration online for clues and you can get really creative with your hiding places – hide clues inside books on your bookcase, inside a pillow case or even hidden in the back of a photo frame. With a little creativity and imagination, this can be a fun, romantic activity that will keep you both occupied for hours.
5. Try Something New Together
If cooking or baking aren't your thing, there are still plenty of other experiences you and your partner can enjoy at home together. From online gin tasting to virtual cocktail making classes and from at-home theatre experiences to virtual stand-up comedy, there are so many great activities and events you can enjoy with your partner from home.
Surprise your other half with an online talk by their favourite author or buy them front row tickets for a virtual evening with that comedian they love.
If you still haven't settled on the perfect Valentine's gift, check out our gift guide here: