Oli Reed of The Outdoor Dad explains how his children and the outdoors inspire him to inject adventure into everyday life, helping him to be the best version of himself for his young family. He believes that you don't need to make every moment of family life epic and Instagrammable; instead believing you can enjoy little adventures close to home, making wonderful memories along the way.
We've all heard the stats – kids in the UK spend less time outside than prison inmates, and our nation's children spend more than 17 hours a week watching TV. What's more, many of them are so disconnected from nature that they've lost the ability to perform basic, everyday functions like assessing danger when crossing a road.
It's all pretty shocking – and the result of the fast pace of life and swirl of technology that seems to engulf us all 24 hours a day, 365 days a year.
As a working parent in my 30s, it can feel almost suffocating sometimes. When I'm not working, I'm usually dressing the kids, dropping them off at nursery, getting them in the bath, tidying the house, doing some nonsense DIY, or trying to get a few hours' sleep before the whole circus starts again the next morning.
Finding a few hours to spend quality time outdoors with your family and relaxing away from the frenzy of everyday life is difficult – but I can assure you it's not impossible.
Your kids may love watching Netflix on the iPad (I know mine do), but they also love opening the back door and charging around your garden. They love digging around in leaves looking for snails, paddling in the local river, climbing the trees in the park, walking through the woods, jumping in puddles, riding their scooters, collecting conkers, feeding the ducks, toasting marshmallows on campfires, kicking footballs, camping under the stars…I could go on forever.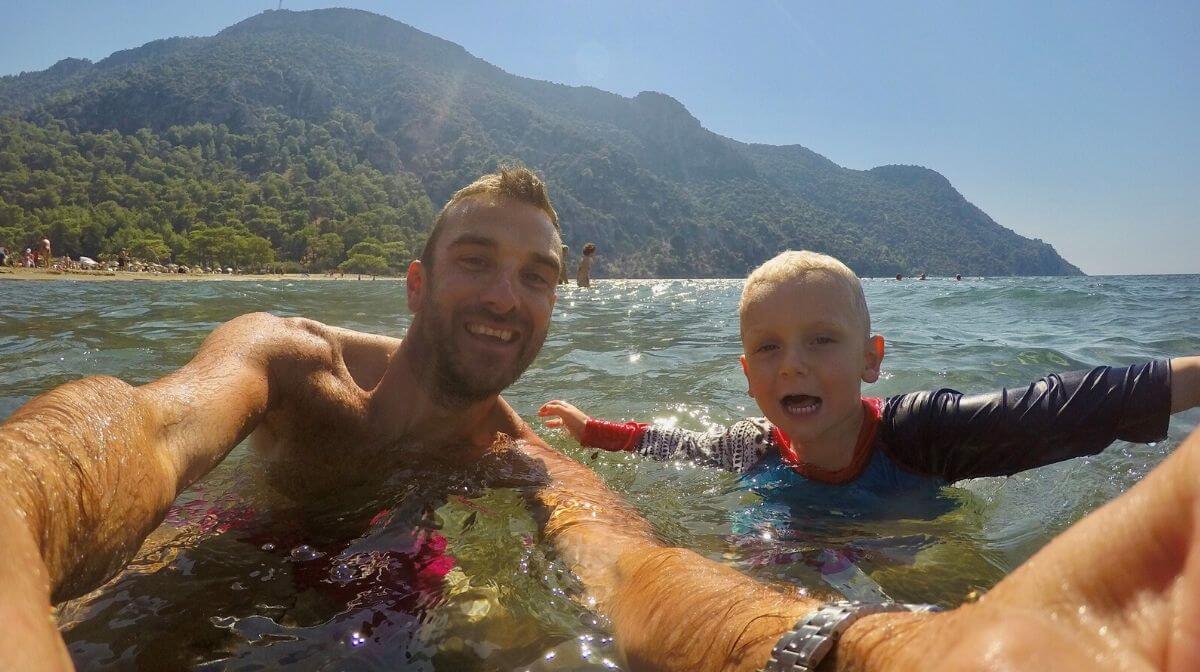 I think there's a common misconception that everything we do needs to be epic. But you don't need to climb a mountain with your kids to give them a memorable outdoor experience. You don't need to spend a fortune on an adventure holiday, or travel for hours to some faraway beach or National Park. There's a giant natural adventure playground waiting for you just beyond your front door.
I've always been outdoorsy, and I've got my parents to thank for that. They never pushed me into anything, but they always encouraged me to get out there and try new things. Hiking, biking, horse riding, tennis, climbing, canoeing, camping, volleyball, abseiling…I didn't stick at all of them, but I'm glad I gave them all a go. It dragged me off the sofa when I'd have been more than happy to watch movies all day every day, and showed me what was going on in the world around me. It also taught me how to relax, bury myself in nature for hours on end, and switch off from the madness of everyday life.
But I don't like to get too philosophical about it, because the main reason I get outdoors is because it's awesome, and a hell of a lot of fun. Since my first son was born (he's now three) we've had non-stop adventures, and he never fails to amaze and inspire me with his energy, enthusiasm, determination, and relentless desire to try new things. We started with walks in the pram, then in the baby carrier, and eventually on his own two feet. We bought a baby bike seat, then he got his own balance bike, and now he's a master (and a menace) on his scooter.
We've slept in tents, canoed down rivers, built snowmen, swam in the sea, climbed hills, swung in hammocks, built dens, played endless games of football, charged around adventure playgrounds, and basically had the time of our lives.
And the best thing is, it's all been so simple to do.
We don't tend to travel far and wide to get outdoors, we just do as much as we can close to home. It doesn't cost us a lot of money and it doesn't take loads of planning, but what it does need is the motivation to get out there and try something a little bit different from time to time.
Our second son was born in June this year, and he's as cheeky as the first, so we've definitely got trouble ahead. He'll be crawling soon and then the whole cycle starts over again, but this time with double the fun.
I love my little family more than anything in the world, and I love my kids for constantly challenging me to come up with new ideas, and to try to inject a little bit of adventure into our lives every week – I wouldn't want it any other way.
For inspiration for your own family adventures, visit the www.theoutdoordad.co.uk or follow Oli here.