Venus Innovates and Unveils a Sustainable Cardboard Box
Committed to reducing plastic waste and preserving the planet's resources, Venus has innovated with new recyclable cardboard boxes for the entire Venus refillable razor range at the beginning of this year. It is made from recycled cardboard and paper certified by the Forest Stewardship Council (FSC).
Gillette Venus has been serving women for nearly 20 years and has taken on the challenge of reducing its environmental impact to protect the planet's natural resources.
This commitment is part of a sustainable development objective that the brand has set itself: by 2030, 100% of packaging will be recyclable.
Venus Products are Committed to Sustainability
According to an IPSOS survey commissioned by Gillette, 52% of consumers questioned said that they recycle most of the products used in their bathroom. This is an encouraging figure that reflects the ecological awareness of users. Conscious that the bathroom is one of the rooms in the house that accumulates the most waste, Venus is committed to helping women move towards more environmentally friendly sustainable consumption.
For years, our Research and Development teams have been working to offer women safe, effective and sustainable shaving products.
Our refillable razors are designed to last. Our blades provide one month of comfortable use before needing to be replaced* and our refillable handles are made of metal or a minimum of 30% recycled plastic**.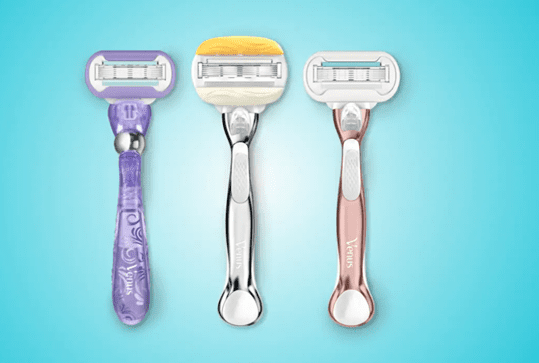 A New Eco-friendly Box Made from Recycled Cardboard
Of the consumers surveyed in our study, 57% said that recyclable packaging was one of the most important factors in deciding whether or not to buy a bathroom product. 73% go so far as to say that they would be more interested in buying a product if it was packaged in sustainable packaging. Ecological awareness has brought packaging to the forefront of users' minds and has even become a factor in their purchase decision.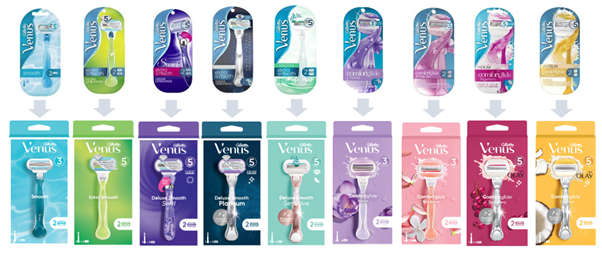 Today, consumers expect more from the brands they trust. That's why Gillette Venus is committed to helping women become more sustainable and responsible consumers. The launch of these new recyclable cardboard boxes should save more than 245 tonnes of plastic in Europe in one year, the equivalent of over 24 million bottles of water***.
Promoting and Encouraging Recycling
In order to effectively support our users in their recycling efforts, it was important for us to use materials that are easy to identify and easy to sort. Our new boxes are made entirely of cardboard and paper, materials considered by 87% and 86% of the consumers surveyed to be easy to identify and recycle.
To offer consumers a more environmentally friendly alternative, our teams have decided that the circular economy is the right choice to help fight against plastic pollution. The cardboard and paper used in the box and holder of our Venus refillable razors are made from used paper, newspaper and paperboard magazines. The outer box contains a minimum of 40% recycled material, while the inner tray contains 95%. An effective, sustainable cycle to support a circular economy and limit the consumption of raw natural resources.
Responsible and Ethical Sourcing of Raw Paper
All our cardboard boxes are certified by the FSC – Forest Stewardship Council, a non-governmental, independent organisation committed to responsible forest management worldwide. FSC forest certification is based on three criteria:
Ecological: responsible harvesting of resources, soil protection, the prohibition of GMOs, implementation of measures to preserve the ecosystem, plants and animals.
Social: sourcing is carried out with respect for the workers and the people who live in this environment.
Economic: work is carried out to enhance the value of forest products and services in order to strengthen the local economy.
The proportion of raw paper and cardboard that goes into our boxes comes from these forests, whose entire production chain is subject to numerous annual checks and audits to ensure quality and compliance with FSC standards.
This Initiative is Soon to be Extended to Other Venus Products
As part of a commitment to this ambitious environmental goal, Gillette Venus is dedicated to making packaging fully recyclable across other Gillette products by 2030. Our Research and Development teams will continue their studies and investigations so they can propose sustainable alternatives in the composition of our packaging and continue the fight against plastic pollution.
So do good for the planet and surprise her with one of our Venus razors, available in our online shop. Think of recycling your razor blades thanks to our partnership with Terracycle.
* Based on twice weekly shaving
** Excluding Venus Swirl, Mini, and Rose Gold/Platinum refillable handles
*** Based on previous year's shipment volumes