As part of its commitment to reducing plastic waste and preserving the planet's resources, Gillette is introducing new, fully recyclable packaging for the entire range of refillable razors. Eco-responsible cardboard packaging is made of recycled materials and Forest Stewardship Council (FSC) certified paper.
With more than 800 million consumers worldwide, Gillette has taken on the challenge of providing an exceptional shaving experience while protecting natural resources.
This environmental commitment is part of a significant sustainability goal: by 2030, 100% of the brand's packaging will be recyclable. This ambitious strategy, which will make significant progress from 2023 onwards, will guarantee a major, lasting impact thanks to these new standards of environmental excellence.

Products in line with a responsible approach
As a leader in shaving for more than a century, Gillette is committed to helping people become more environmentally friendly consumers. Our Research and Development teams have been working for years to provide men with the best possible shaving products that are effective, safe and sustainable. Our refillable razors are built to last over time: the handle is reusable for 5 years and even longer if you take good care of it; the blades promise comfortable use for one month before needing to be changed*.
New cardboard packaging estimated to eliminate 300 tonnes of plastic per year
Today, consumers expect more from the brands they trust. According to an IPSOS survey commissioned by Gillette, 69% of UK consumers surveyed believe they would be more likely to buy a product with sustainable packaging. This ecological awareness makes packaging a central concern. Indeed, reducing plastic waste has become a priority for users, to the point of becoming a key factor in purchasing and product loyalty.
Conscious of the desire of the people who use Gillette products to take a responsible approach and limit their carbon footprint, we are taking a step towards sustainability with new recyclable cardboard packaging for all our refillable razors. We estimate that this initiative will eliminate 300 tonnes of plastic in Europe in one year, the equivalent of more than 30 million bottles of water (estimation calculation based on previous year's shipping volumes).
Cardboard packaging at the heart of the circular economy
In order to support our users on the road to recycling, our new packaging is made of cardboard and paper only. These materials are recognisable, easy to sort and recyclable. An important factor since 90% and 89% respectively of the consumers questioned in our study stated that paper and cardboard are materials that are easy to recycle properly.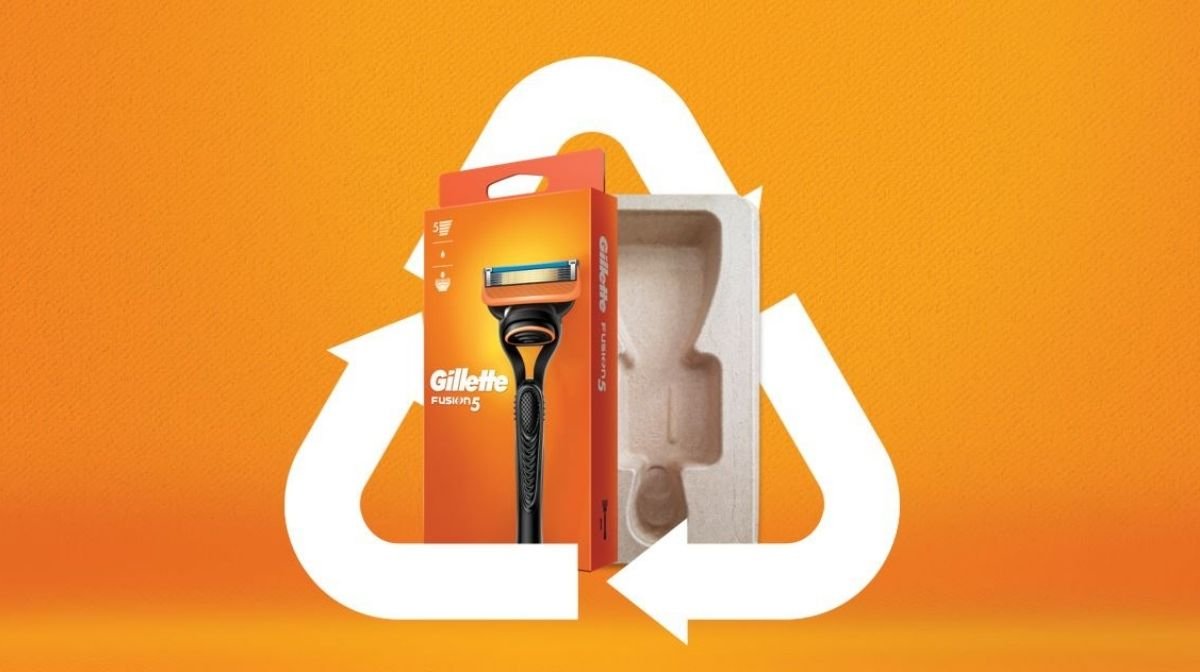 Constantly looking for solutions and alternatives that are more respectful of the environment, our teams have chosen the circular economy. In fact, the cardboard and paper used to make up the box and holder of our refillable razors are made from used newspapers, magazines and cardboard. The outer box contains a minimum of 50% recycled material while the inner tray contains 95% recycled material. This is the packaging that has the highest recyclability rate in Europe. In fact, according to recent European Union data, 85.8% of cardboard and paper packaging is now recycled, making this material the perfect example of the efficiency of the circular economy in the territory.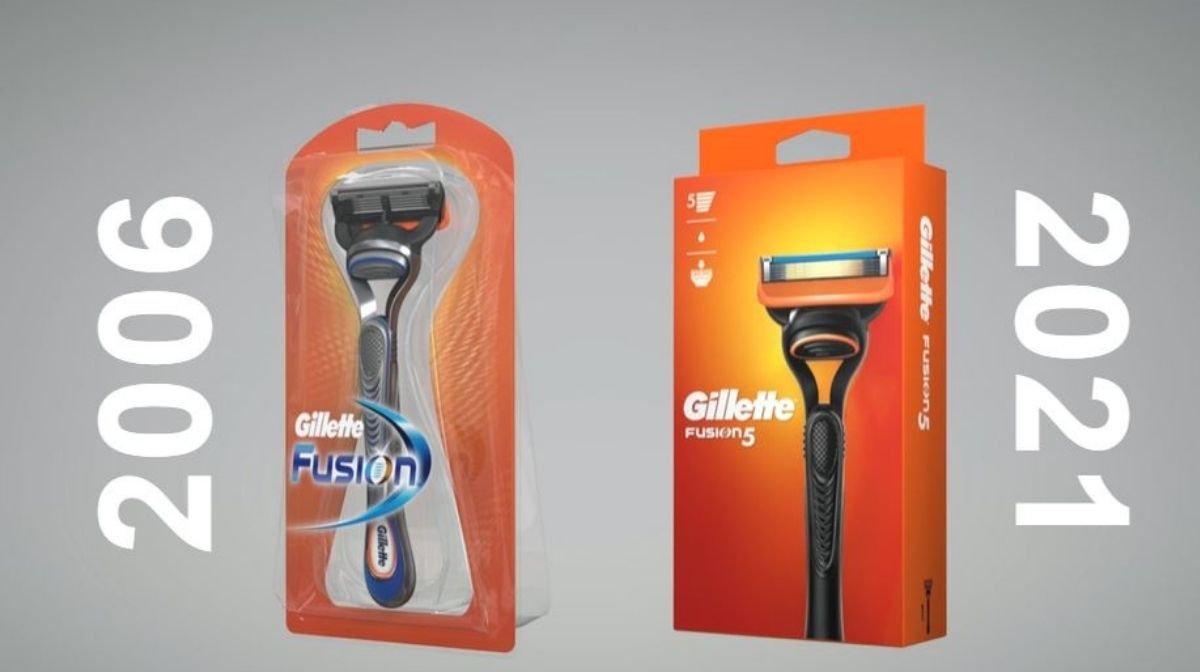 The road to developing a 100% plastic-free box
It has taken years of work to gradually transition our plastic packaging to a more sustainable alternative made of cardboard. This evolution began in 2006 with the introduction of cardboard in our packaging. The use of cardboard in the packaging of our refillable razors has grown steadily until, as of 2016, more recyclable cardboard materials are used than plastics. This process has resulted in significant progress, and today we are able to offer a box made exclusively of sustainable and recyclable cardboard, 100% plastic-free.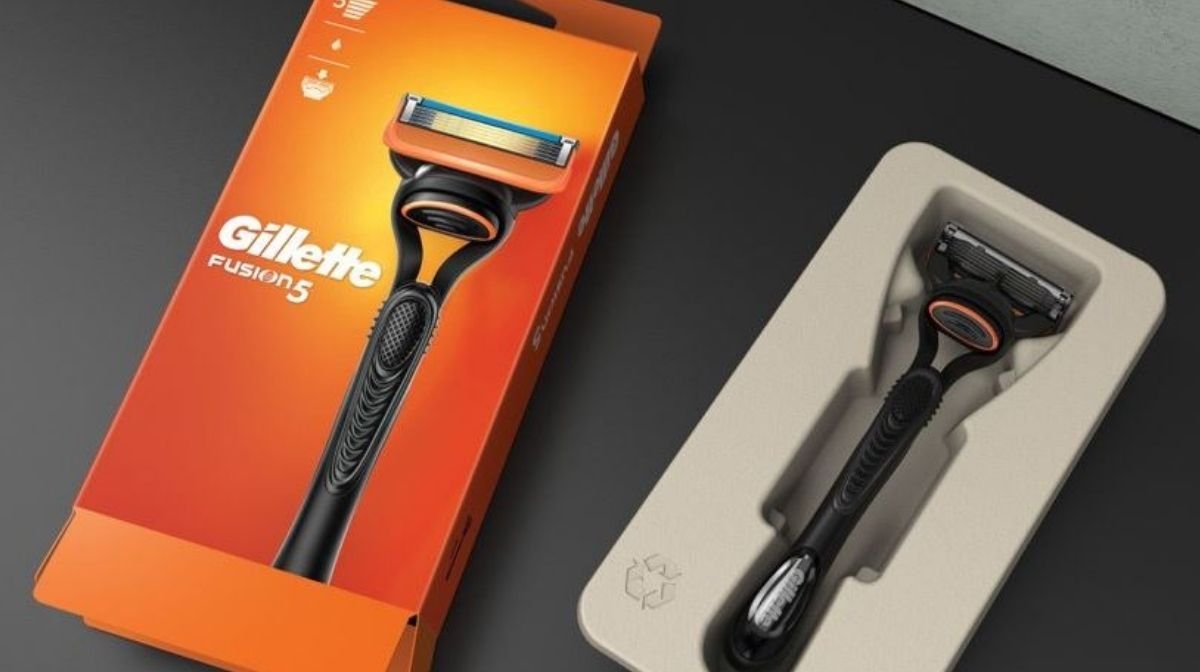 Responsibly sourcing raw paper with the FSC label
As part of our commitment to a more environmentally friendly manufacturing process, our sustainable packaging is all certified by the FSC label, an independent non-governmental organisation that works for the responsible management of the world's forests. The certification attests in particular to the actions carried out to preserve the ecosystem, plants, animals and people whose homes and professional
activities depend on this natural space.
Most of the cardboard and raw paper used in the composition of our packaging comes from these responsibly managed forests, where the entire production chain is subject to numerous annual checks and audits.
This initiative is soon to be extended to other Gillette products
In order to meet the targets the brand has set itself by 2030, Gillette is working to make all its packaging 100% recyclable across other products in the range, aiming for significant progress already by 2023. Our teams are also continuing their research and development to increase the use of recycled materials in the composition of our packaging.
Matt Thomas, Gillette Brand Director for UK & Ireland, said: "Men want to shave with confidence knowing the products they're choosing come with responsible impact."
"As the biggest brand in male grooming, we know we have a responsibility to drive significant change in the category and these upgrades across our packaging and razors are the first significant step in that journey. There's always more to be done, but through this, and our ongoing razor recyclable programme with Terracycle, we're making progress."
*For our 5-blade refillable shavers