In January 2021, Gillette introduced recyclable carboard boxes for its entire range of premium refillable razors. These cardboard boxes are made from recycled material and responsibly sourced paper, certified by the Forest Stewardship Council (FSC).
Within the packs, our razors are held in a pressed pulp fibre tray made from 95% post-consumer recycled (PCR) material.
In January 2023, we also extended this across our full range of blade cartridges meaning all our refillable blades now come in recyclable cardboard packs too.

Refillable razors you can reuse for years
As industry leaders, we're committed to meeting the performance expectations guys have when using our blades and razors, while also helping to address and solve some of the most complex sustainability challenges facing our world.
Our Research and Development teams have been working for years to give men the best possible shaving products that not only provide the quality shave men have come to expect of Gillette razors, but are also safe to use, and durable.
This is why our refillable razors are built to last over time. The handles are reusable for years when taken good care of, and our blades promise comfortable use for up to one month before needing to be changed*.
A move from plastic to cardboard packs
We've been on a journey to make our packaging more sustainable for many years through research and design. Cardboard and paper are two of the easiest and most widely recycled materials, for which there's longstanding expertise and widespread local infrastructure across the country. We also know they are easily recognisable and intuitive materials for you to put in your recycling bin.
It has taken years of work to gradually transition our packaging to an alternative made of recyclable cardboard. This evolution began in 2006 with the introduction of cardboard in our packaging. The use of cardboard in the packaging of our refillable razors has grown steadily until, as of 2016, more recyclable cardboard materials were used than plastics. This process has resulted in significant progress, and today we are able to offer a box made exclusively of recyclable cardboard.
In 2021, when we made this shift from plastic to recyclable cardboard packs for all our premium refillable razors, we estimate that this eliminated 300 tonnes of plastic in Western Europe in one year, the equivalent of more than 30 million bottles of water (estimation calculation based on 2020 calendar year shipping volumes).
The box today is made of a mix of recycled material (at least 50%**) and FSC certified paper and here's why.
Cardboard packaging at the heart of the circular economy
In order to protect a razor – which is very valuable, very sharp and a highly precision engineered object – during handling, transportation and storage, the package needs to be very strong and resilient. The recycling process affects the fibre strength of paper and cardboard, making it slightly weaker, so packaging with a higher post-consumer recycled content (PCR) didn't have the necessary quality and strength. That's why we've supplemented the recycled cardboard with "virgin" cardboard, but use "virgin" cardboard which is sourced from sustainable forests. This is what the FSC certification mark on the pack indicates and ensures – more on this below.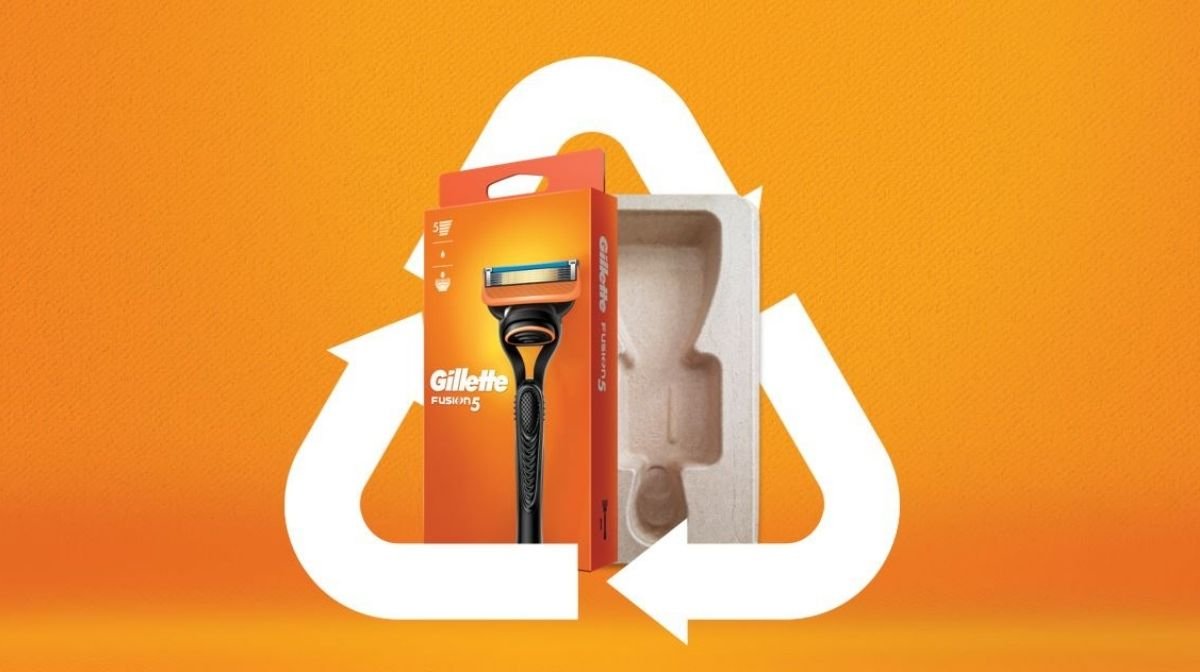 The same goes for our pressed pulp fibre tray. This is made with 95% PCR material. Our supplier of pressed paper pulp has supplemented this with 5% virgin cellulose to give it sufficient strength and cushioning to adequately protect the razor during handling, transport and storage. This ensures the quality, safety and performance of our products that you expect.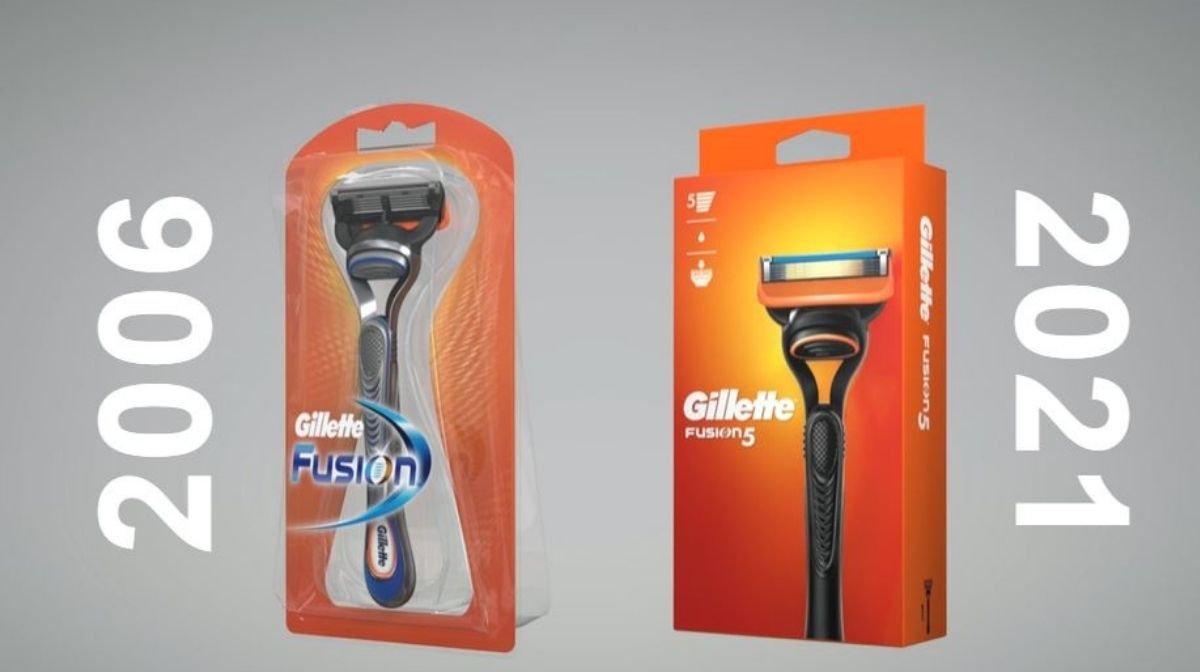 Responsibly sourcing raw paper with the FSC label
All our cardboard packaging is certified by the Forest Stewardship Council (FSC) label, an independent non-governmental organisation that works for the responsible management of the world's forests. The certification attests to the actions carried out to preserve the ecosystem, plants, animals and people whose homes and professional
activities depend on this natural space.
The raw cardboard and paper used in the composition of our packaging comes from these responsibly managed forests, where the entire production chain is subject to numerous annual checks and audits.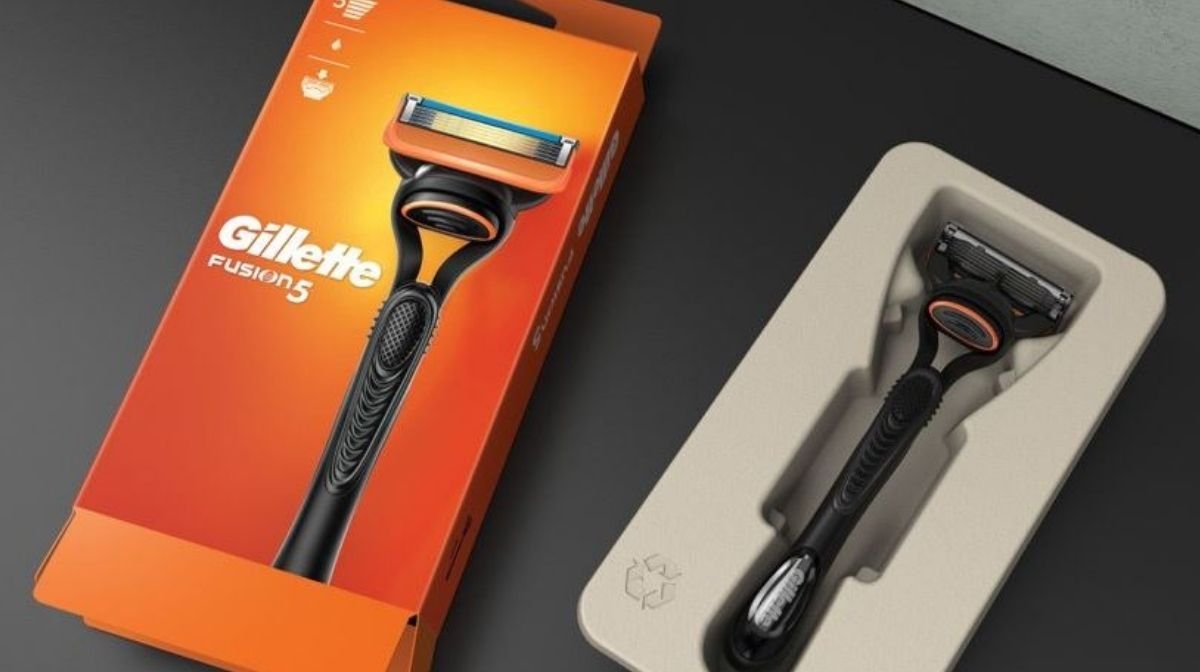 More to be done – and we know it
Our move from plastic packaging to recyclable cardboard packs across all our refillable blades and razors was an important one. In a business of our scale, these changes do take time but have an important resulting impact. To date we've focused where that impact will be felt the most as well as ongoing longer-term investment and multiple interventions across our manufacturing and product supply chains to reduce the overall impact of our business and products.
We're very aware there's more work to be done at an accelerated pace and we hold ourselves accountable to the goals we've set. We invest a lot into research and development and have a number of active sustainable material development programs which are integral components for any future design.
*For our 5-blade refillable razors.
**For Gillette refillables razors base packs. With minimum 37% PCR for Gillette refillables razors Value packs.